October 9, 2014
Recently we conducted a survey and asked our clients which feature they would like to see the most in JConverter and almost all of them voted to add support for importing images from WordPress to Joomla. Today we have released JConverter 1.5 which supports this feature along with another feature and a few minor bug fixes.
Support for importing images
As shown below, JConverter 1.5 has an option to enable import of images from WordPress to your Joomla installation. For import to work, you also need to provide complete (absolute) path of your WordPress site so JConverter can find the images.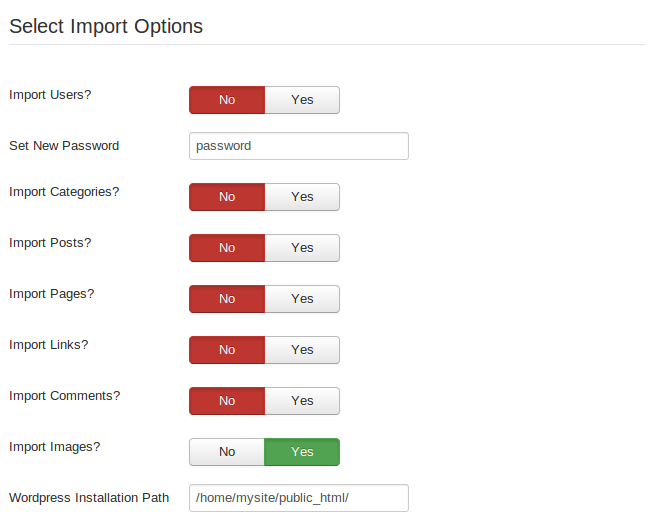 When a user imports a WordPress site with images option enabled, JConverter copies all the files under wp-content/uploads and copies them with same directory structure inside Joomla installation. This way URL to the images need not be changed and images also comes become part of Joomla installation. One might ask why to copy the whole uploads folder and not just selective images which are actually part of posts/pages. The reason why we decided to import/copy the whole folder is that because we are working on some other features where we plan to support import of non-native WordPress content, e.g. content created by plugins like gallery.
For import of images to work, both Joomla and WordPress installation must be on same server.
Support for post/page title alias
With JConverter 1.5 version, we are now supporting same title/URL alias which pages and posts have in WordPress. Though you'll have to make additional changes to keep the URL's exactly same but with this feature title alias is exactly same which is useful from SEO perspective if you WordPress site has good search rankings.
Minor bug fixes
Apart from the features mentioned above, we have fixed a few minor bugs mentioned below in JConverter 1.5 release.
Sometimes alias for imported posts/pages was not set correctly or not at all set.
Import of user fails if the username has any special characters.
If you are a subscriber to JConverter then you can download it from your Gumroad account. If you are a new user, you can purchase JConverter here – Buy JConverter for Joomla.